Shop for everyone on your list with these gift guides
Ahhh, yes. Here we are: officially in the home stretch until Christmas. I've found that there's two types of people: those who get it all done early and those who are strolling the drugstore aisle on Christmas Eve. If you're in camp: " Crap! I haven't even started" … no judgement! I have been there, and it is no fun stressing about where to go to get a decent gift. But this year, I have you covered with the best last minute gift ideas! I've outlined gift ideas for every type of person on your list! Best news: it CAN ship in time (at least at the time of this writing). And if you're catching this post at truly the last hour, I've got some super last minute ideas for you too.
How to give a gift they love (even last minute):
I consider gift gifting a love language, and I LOVE shopping for others! Not to brag (ahem), but a friend or two have told me that gift giving is my super power. Taking my super hero cape off and getting real: the true secret in great gift giving is about two things: 1. listening and 2. remembering.
Listening to what, you ask? If you're gifting to someone you know well, listen for small cues from your loved ones year round about what they need, want, love, don't have, think is awesome, etc. For the remembering part of my secret sauce, I have a "Gifts" note in my iPhone that is for this purpose. When I hear something or have an idea for someone in my life, I jot it down there. When the time comes to give a gift, I open my notes app and at least have some ideas to help me.
Some things to listen out for: do they LOVE hot sauce, owls, yoga, knitting, motivational quotes, office supplies, the Goo Goo Dolls, Disney World, etc etc etc … listening for and remembering little things about a person truly helps SO much when gift giving.
If you're giving a gift for someone you don't know super well, this is definitely a little trickier but not impossible! Try to find out (or remember) their interests, hobbies or even something super you've noticed they like. Truly can't think of a thing about them? Don't worry: I have some tried and true options that they'll love too.
There's nothing better than seeing genuine surprise and thankfulness when a person opens a gift they genuinely love.
Last minute gift ideas for her:
Whether you're shopping for your girlfriend, wife, mother, sister, co-worker or friend, these are some fail-proof options she's sure to love!
Refillable Notebook: Everyone needs a nice notebook that keep in their work bag or bedside table. I love this one because it is refillable, so you're not having to buy a brand new notebook every time you fill one up. You can easily take out what you don't need and fill it with fresh refill paper. PS – add the refill paper set and nice set of pens too.
Electric Wine Opener: If the lady in your life enjoys either entertaining or a glass of wine, this is the perfect give for her. Truly there is nothing more frustrating than shredding a cork in the bottle (yes, I've definiely done that), and an electric opener makes that impossible! Add some wine stoppers or a set of wine glasses to go with the opener, plus a bottle of wine too!
Rose Quartz Facial Massager Set: Pamper her a bit with this facial roller and massager set. This set comes with a roller and a Gua Sha facial tool, which is known for effective anti-aging facial massage. This set has the highest ratings!
Slippers or House Shoes: You can never go wrong giving the gift of cozy, especially in 2020. With most of us staying home more than ever before, having warm cozies is a must! A nice pair of slipper or house shoes is an easy win. These are super highly rated for their durability and comfort. Add in some cozy socks and a pair of PJ pants too.
Candle: Either as an add on or as a stand alone gift, giving the gift of a candle is always a safe bet. One of my favorite brands of candles is NEST because they last forever, and the scents are so luxurious. You can browse their whole collection here. Add a rechargeable lighter to complete the gift. Or give a fun DIY candle making kit!
Bathtub Caddy Tray: What woman doesn't love taking a bath?! And what woman wouldn't want a tray to hold all the necessities?! This tray sits across the bathtub and can hold your book / tablet, phone, wine glass, candle and so much more! Add in an epson salt soak, a candle and a bottle of wine, and you'll be golden!
Jewelry Organizer Chest: This is on my personal wish list this year, and I researched a ton of jewelry storage options. I love this one because it's neutral in color, easy to access and can stack / add on if needed. If the lady in your life has a lot of jewelry, you can't go wrong with this one.
Facial Mist Trio: The Mario Badescu Spritz Mist and Glow Facial Spray Collection Trio is a big hit in our house. We got these for our teenagers, per request. This set comes with 3 scents: Lavender, Cucumber, Rose and is neutral enough to please anyone on your list.
Facial Cleaner: This Forea LUNA Mini is an electric face cleanser tool that gets below the surface to deep clean. I love that you can use your own cleanser with this, but makes the whole face-washing process super easy. A great luxurious gift idea!
Garden Set: This is on my wish list this year! 2020 has brought out the gardeners in most of us, and this is such a nice gift for anyone who jumped on that train too. I like this set because it's inclusive of all the standard garden tools you would need!
Weekly Planner: I bought this for myself earlier this year, and it's been a game changer for me! It's non-date / year specific and is in tear-away format, so if you skip a week (or a month), the whole planner won't be derailed. It allows you to look at the week ahead in a digestible, easy format. Would be a great gift for a mom, an entrepreneur or someone with a busy schedule!
Last minute gift ideas for him:
If you're shopping for your husband, boyfriend, brother, dad, in-laws or a friend, these ideas are sure to be winners!
Whiskey Stones: Perfect for a guy who enjoys a drink. These reusable stones are kept in the freezer and then used in drinks instead of ice. Keeps the drink non-watered down. Add in some nice ball glasses and a handle of their favorite alcohol.
Manly Soap: This Sasquatch soap is 1. hilarious 2. actually really good smelling. I've given Blaine this soap before and can attest to its earthy, manly smell. He loves it, and so do I!
Grill Set: If the guy you're shopping loves to grill, update his tools. This is a complete grill set made out of stainless steel so sure to last! Add these gloves, meat claws and BBQ thermometer too!
Beard Care Kit: If he has a beard (or has mentioned growing one out), this is the perfect set for him. This beard care kit has it all: beard oil, bam, comb and scissors and comes in a metal manly box.
Leather Weekender Bag: Perfect for a daily gym bag or for trips, this leather bag is super highly rated. It comes in several styles, all manly but stylish. Give it as is or sneak in coupon vouchers for a weekend getaway or a gym membership.
Foam roller: If your guy is at all active, he needs a foam roller! This one ships super fast and comes with instructional videos. Also great to gift with a gym membership or a BOSU ball.
Wood charging dock: For the tech lover, give him a manly, but nice way to charge everything. This charging dock is made from wood and would look so nice on a nightstand or desk! Perfect idea if you're also gifting him Airpods, an Apple watch or an iPhone!
Portable Speaker: We loooooove this brand of portable speakers! I gave Blaine a different version years ago, and he uses it almost everyday! This speaker sounds great indoors or outdoors, is Bluetooth enabled and FLOATS! The waterproof feature was a draw for me, and Blaine uses it kayaking, SUPing, at the beach, etc. Add on the case as well!
Last minute gift ideas for anyone:
These gifts are great ideas for anyone on your list!
Bamboo Charcuterie Display Board: This is a charcuterie board from my dreams, perfect as a hostess gift or for someone who loves to entertain.
Subtle Art of Not Giving a F*CK book: This is a favorite of mine, and I genuinely believe everyone needs to listen to it! Truly any book would be a great gift. If you're looking for options in the Entrepreneur / Mindset genre, check out my full list here.
What Do You Meme Game: Everyone is raving about this game!! Perfect for a friend who loves hosting game nights or get togethers.
Neck and Back Massager: I'm using this exact massager as we speak, and it is heavenly. I researched SO many before I pulled the plug on this one, and I'm so glad I went with this one. It feels like a genuine massage and has finger-like rolling, adjustable intensities and heat. It's a home run gift!
Mood Teas: For the tea lover, or really anyone, this tea gift set is appealing to anyone because it's a tea variety set. They've categorized tea based on the mood you're in, which is perfect! Add in a mug (this one is marbled looking and dishwasher / microwave safe) , a fancy tea diffuser or a cute steeper to complete the tea gift.
Truffle Set: Is giving the gift of chocolate ever wrong? Short answer: no. Long answer: The Ferrero Rocher Collection is a cult favorite and an easy gift to show someone how much you love them (haha).
Bird feeder: For the animal or nature lover, give them a bird feeder to enjoy the view from their window. This one is nice because it drains rain water, is squirrel-proof and neutral in color and design so can't clash with someone's decor. Gift a bag of bird seed as well.
Picnic Blanket: Perfect for a socially distant outdoor picnic, this portable picnic blanket would be a a great gift idea! Great for the beach or grass, this blanket is waterproof and would store in a trunk easily!
Milk frother: Perfect for the coffee or tea lover in your life, this drink blender helps make the perfect latte. Gift with a this frother pitcher, a nice bag of coffee or tea and a mug!
Power bank: Can a person ever have too many of these power banks? Definitely not! These portable chargers are great for traveling or even around the house if you need your phone on you but can't stay tethered to the wall. We have these, and they work wonderfully! They work with many devices as well!
Himalayan Salt Lamp: Another gift that you can never have too many of: these salts lamps help purify the air and act like a night light. Gift with some extra lightbulbs as well.
Last minute gift ideas for kids:
Be sure to check out my gift guides below for kids! Many of these can still arrive before Christmas and are "Harper-approved!"
Baby's First Christmas Gift Guide
Gift Guide for the Toddler (1-3 years old)
Gift Guide for a Preschooler (3-5 years old, heavy on "girl" things but lots of gender neutral t00)!
Truly Last Minute Gifts:
If you're reading this and it's truly the very last minute, do not resort to buying any kind of crap you can get your hands on at the leftover drugstore shelves. Here are some ideas to help you give an awesome gift:
Shop Local: Always, always, always shop local if you can help it! Check out local boutiques or retailers in your town that are open. They would greatly support your business, and they would be happy to help you find a great gift!
Buy a membership: Buy a membership to local parks, State Parks, gym membership, exercise class pass, aquarium, museum, etc. If an annual membership is greater than you can spend, buy a daily admission for two (or however many are in the family)!
Gift Certificates / Gift Cards: While I generally don't love to give gift cards, I do love to receive them! And so do many people I shop for. They've gotten a bad rep over the last years because they're allegedly impersonal, but truly: the person can buy what they want! Add a personal touch by gifting the card / gift certificate in a mug, nice box or accompanied by a nice bag of coffee or bottle of wine. Take it a step further and gift from a local boutique, spa, restaurant, etc.
Experience together: I'm allllll about gifting experiences, and one of my favorite ideas is to gift an experience together. Hand write or print off a "coupon" for lunch or diner at your favorite restaurant, but instead of giving a gift card, offer to go together, your treat. This can apply to walks at a local park,
Short on cash? Gift favors: Gifts don't always have to cost money. Truly some of the best gifts are always from the heart. Make a few "coupons" for favors or errands you will run or do for the person. Or give "5 hours of my handy man time" or "date night babysitting."
Shipping delays? If the item they want is delayed or out of stock, buy it anyway, print off a picture of the item and wrap it in a box. They'll still have the excitement of opening it and knowing it'll come when it gets there.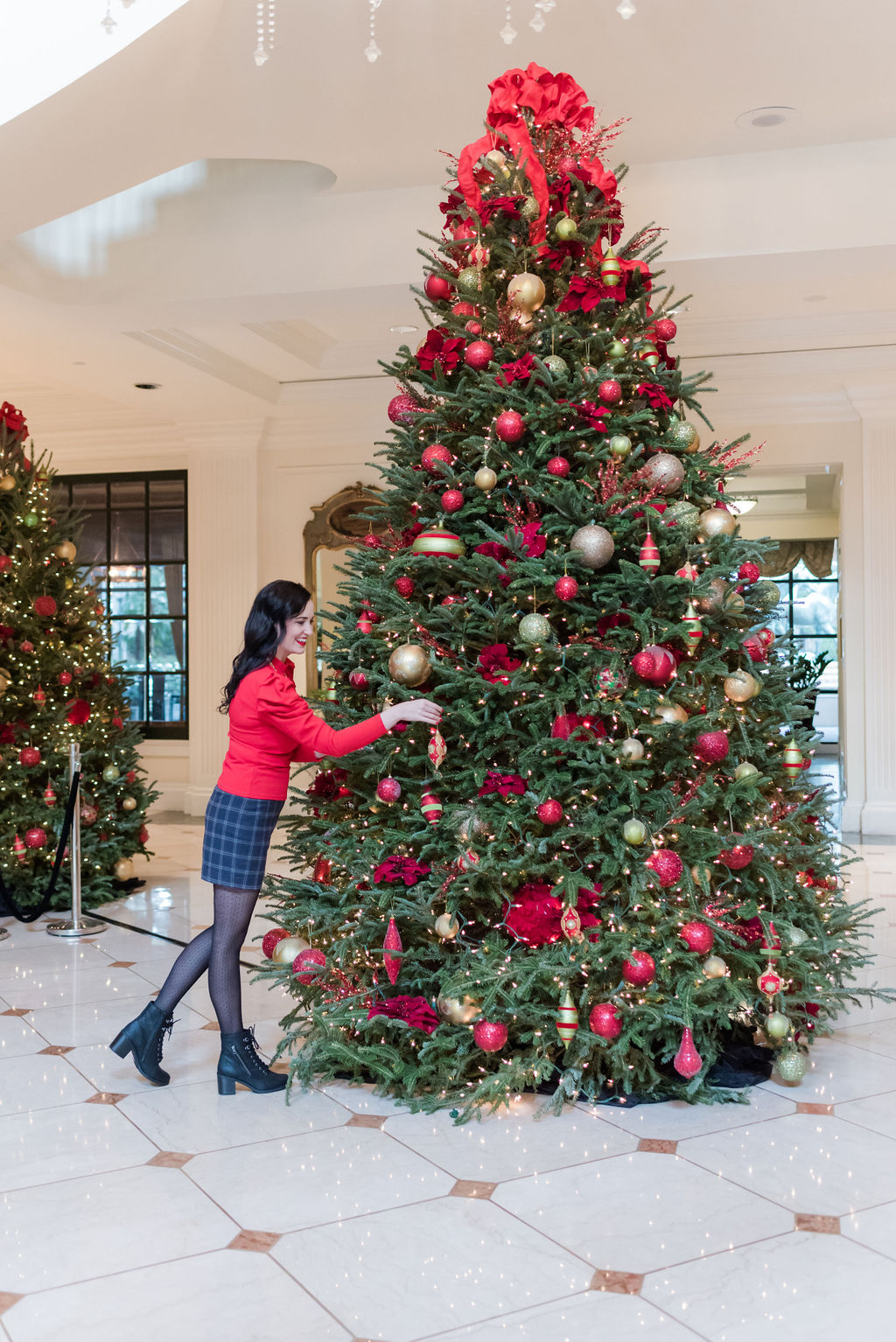 Shop My Look:
Shop my festive holiday look (also able to ship in time for Christmas)!
My red peplum top | similar to my plaid skirt | my patterned tights | my heeled boots | my stacked necklaces | wearing Hurricane Red LipSense
Location of my photoshoot: Belmond Charleston Place Hotel
Photographer: Leigh Hayward Photography
I hope this compilation of the best last minute gifts helps you! If there's something you're specifically looking for, or if you still need more ideas, comment below, and I'll do my best to give you some more ideas!