No tricks, just treats! How to enjoy a candy-free Halloween with your kids
Whether your child has a food allergy, your family is health conscious or you're wanting to support the Teal Pumpkin Project, it's totally possible to have a candy free Halloween. And it can be fun! I've outlined my favorite candy-free Halloween ideas below!
What is the Teal Pumpkin Project?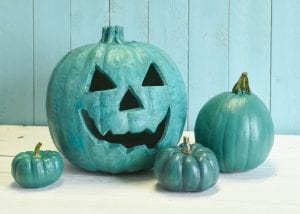 The Teal Pumpkin Project is a movement started by the Food Allergy Research and Education group, aiming to make Halloween inclusive and fun for all by promoting food-free Halloween treats.
The idea is to place a teal pumpkin on your doorstep, signaling that you hand out food-free treats. Those who have food allergies will know you're a "safe house," and they can not only trick-or-treat with you but also get to enjoy that treat.
What a lot of people don't realize is that when you have food allergies (and especially when you're a kid), it's hard. You miss out on a LOT because most events are food-focused. And just because you have food allergies, doesn't mean you don't want to do Halloween things, especially trick-or-treating.
How We Handle Halloween Candy in Our House
Even though our older girls don't have food allergies, we've always been strict with candy consumption because … well … it's horrible for you. Not only is it a ton of sugar, but the ingredients in mainstream candy (and most food geared toward kids especially) is full of crap.
That being said, we are believers in letting kids be kids (and we have split custody so we don't have a lot of control over diet), so they usually get to pick out a handful of anything they want to enjoy and then replace the bad stuff with higher quality candy or a toy.
However, our youngest daughter, who will be 4 this Halloween, has been raised a bit differently from the start. She had her first bite of ice cream at 2.5 years old and rarely gets sweets today. We do "healthy treats" like dried fruit, organic yogurts (frozen in the long pouches), fruit popsicles and trail mix with sprinkled dark chocolate chips. Her taste buds don't know mainstream candy (and I hope they never do).
Food allergy wise, our youngest is gluten and dye free, and she knows to ask if something is either of those before she tries a new food or shares a snack with a kid. She knows that we choose healthy foods because they make our bodies strong and happy.
So far, Halloween has been easy because even though we trick or treated, we just easily take that candy and swap it for a healthy seasonal snack or a fun themed toy. We don't make a big deal about it, and she knows that the deal. And that's our plan as she gets older.
This year, we will give her some "healthy" candy and have fun with it. We just won't make a big deal about it, so she remembers more about the experience of Halloween and not the candy.
Food-Free Halloween Treats to Hand Out
Whether you choose to hand out food-free treats to trick-or-treaters or you're attending a Halloween / Fall Festival event that doesn't allow food treats, these are some easy options.
1. Web of Friends Printable
One of my BFFs designed the cutest printable using a glow stick and a spider ring. Check it out here!
2. Glow sticks
Every kid LOVES glow sticks, especially for night events. And what better way to help the neighborhood kids be seen my local drivers than glow sticks.

3. Halloween themed toys
From spooky offerings to silly gag gifts, add in a cute Halloween toy to give the kids something to play with (especially in between the candy-coma most get).

4. Bouncy Balls
Eyeballs, light up, decorated … all sure to be a hit!

5. Stamps
Everyone loves stamps … and they're great to add to your craft bin after the holiday too.

6. Tattoos
Glow in the dark or regular temporary tattoos are sure to be loved by all!

Candy-Free Food Treats to Hand Out
These treats are not necessarily food allergy friendly (because people can be allergic to all kinds of things that you wouldn't think of), but these are great candy-free alternatives.
1. Drink packets
Pass out apple cider or hot cocoa packets so the kids can enjoy a seasonal drink.
2. Fruit snacks
Not quite candy but still a yummy treat kids will loves. Hand out fruit snacks!
3. Snack bags
Goldfish, pretzels, or these gluten-free / tree nut-free granola bars are all great candy-free ideas to pass out.
"Healthy" Candy Options
Of course, our daughter has had candy on occasion, usually around holidays or special events. And she'll get a few candy treats this year, now that she's older and has developed strong healthy eating habits. We are very choosy about the candy we give her, and these are our favorites (all organic, dye-free):

Halloween doesn't have to be about candy. It can be about costumes, pumpkin carvings, friends, crafts, silly music … the magic of a fun holiday. Kids learn from their environment, and each experience is what YOU make it as the parent.
So tell me! What are you going to pass out on Halloween night? Do you participate in the Teal Pumpkin Project?