If there's one thing to know about me, you know I LOVE coordinating things with my friends and family. I am ALLL about the matching group t-shirts, the coordinated outfits to events and absolutely coordinating for holiday family photos. Come early fall, I always get excited for family photo time … mainly because I get to pick out our outfits. Last year, we went with a soft neutral palate pulling in pinks, gold and a little blue (because we do have one "boy").
For us, shopping with picky teens and a picky preschooler and a picky man definitely make it tough. Hah! But just because it's challenging doesn't mean it can't be fun. While we do try to pull items from our closets that we already own, we do often use "family photo" time as an opportunity to get a few new wardrobe pieces for each person, especially the growing girls. Our one rule is that we don't ever buy something just for the family pics: we want to make sure the item(s) get plenty of wear. This is especially applicable to those picky teens! Last year that involved a few shopping trips to Target and Kohls, but everyone was happy with their choices.
For this family photoshoot, I used my gorgeous cream colored dress from Chic Wish as an anchor for our photos and planned everyone else around that. A photographer we worked with once gave me that tip: to use one person's clothing as the focal point and bring in other options around them. Choosing a warm neutral dress definitely was a safe choice, as the pinks and golds in the girls' outfit flowed easily. In order to avoid being too "matchy matchy," Blaine's pop of blue was the perfect contrast to break up all our neutrals.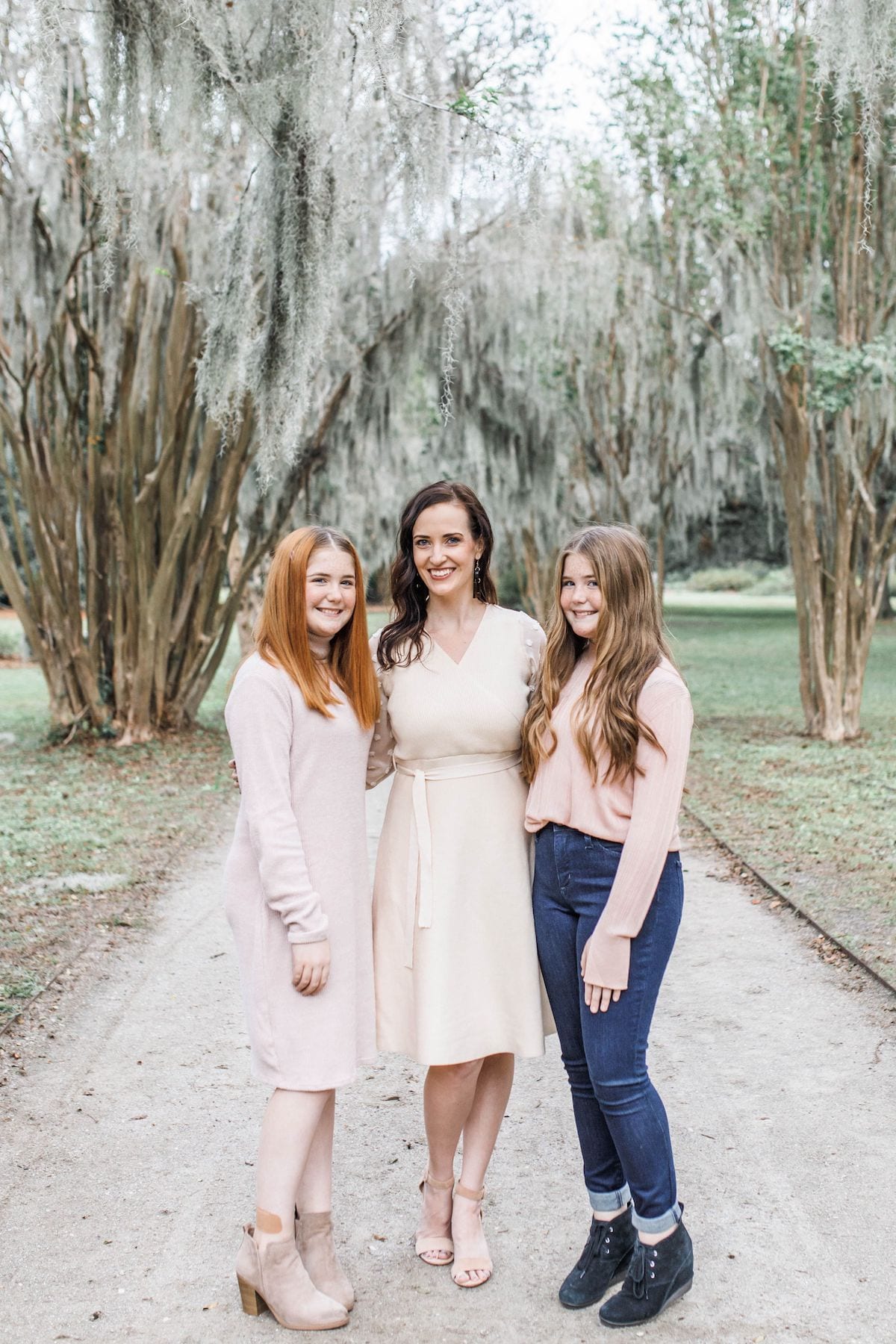 One tip I definitely recommend you consider when planning your family outfits is to keep the weather in mind and plan ALL parts of an outfit around that. Generally we have very mild falls and winters (usually plenty of warm days in the 70s and 80s), but never fail: family photo day is usually pretty chilly, especially because they're always timed around sunset. If you have little ones who are heat or cold sensitive like ours is, try to bring a coat or jacket that you won't mind being photographed in. I had originally planned on keeping Harper's pink coat off so all 3 girls weren't wearing different shades of light pink, but because of the chilly weather, I ended up leaving her in it. And I think her coat adds SO much to the photos. I'm definitely glad I grabbed this jacket of hers through, versus another color that didn't have the matching theme in mind! Don't forget the tights, cardigans, etc!
While we generally focus the shoot on the kids, documenting this time in their childhood, Blaine and I always try to get pictures of ourselves too. Some years they turn out better than others, but I love the way Laura Ryan captured us in these photos. And looking back, I'm so glad we took the time to do them.
Shop the Post:
If you're looking for specific details about any of our outfits, I've created these shopping carousels below. Click through to browse the different items we're wearing (or similar to):
My outfit (cream midi dress + nude block heels):

Harper's outfit (gold dress with pink jacket):

Twin's outfits (pink sweaters):

Blaine's outfit (blue button down, gray slacks):
I hope this gave you some ideas for your own holiday family photos. This is such a fun and festive time of the year … remember: it's not about what you wear or how you look. It's all about the memories you make!! xo